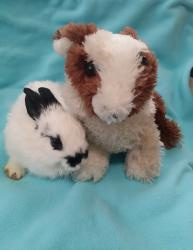 ENTER YOUR BUNNY IN OUR CONTEST FOR A CHANCE TO WIN A FREE TOY!
CONGRATULATIONS TO THIS MONTH'S WINNER:
SATCHI
Satchi is a rescue living at The Rabbit Haven in Scotts Valley, CA. Satchi was attacked by a dog, but thanks to The Rabbit Haven she was rescued and last month had successful surgery to amputate her bite infected leg. Satchi is on her way to a full recovery. We wish this little sweetie all the best in her recovery and in finding a forever home. Here's a link to read Satchi's story:
http://www.therabbithaven.org/urgent-need/emergency-surgery-for-tiny-injured-baby-satchi
One lucky bunny wins a free
toy each month!
( No Purchase Necessary )
You may submit a new entry each month.
E-mail us at FunnyBunnyToy@sbcglobal.net to enter.
Please include your bunny's name, and your name and address.
We love to see photos of our bunny customers and to hear about them too. If you are the winner we'll post your furry friend's photo!